Kitchen Remodel Colorado Springs
If you are a homeowner thinking about a kitchen remodel and live in Colorado Springs, Case Cabinets is the company to call. We've been in the kitchen remodeling business since the 1980s and are on top of current trends and products. No matter what type of kitchen look you are hoping to achieve, we have the expertise to bring it to fruition. And we know, there is nothing more exciting than getting your kitchen remodeled to function and look exactly how you want.
The Kitchen Remodeling Process
Whether your kitchen is dated, or you just want to remodel your kitchen for a different look, you probably have questions. There is a lot to plan when thinking about a kitchen remodel. It can be overwhelming, and you may not know where to start.
When you work with Case Cabinets, your kitchen remodel will start with a meeting with Troy Case, Owner of the Company. He'll come to your home at a mutually convenient time, listen to your ideas, answer your questions and measure your space. You'll find he's very easy to talk to. While there he'll make suggestions based on your ideas and show you the styles of cabinets and accessories available. Together you'll agree on what you want then Troy will return to his office and create a computer rendering of your kitchen remodel. With this in hand, he will prepare a price quote and return to review what you selected, the price, and the timing of delivery and installation.
Because Troy has been remodeling kitchens for more than 40 years, he knows the right questions to ask to ensure no need is overlooked. With his expertise in kitchen remodeling, you can be sure he will help you make the most out of your space and your budget.
Working with an Experienced Company
Troy's built a team of skilled kitchen remodelers that take pride in their work. On every job, Troy serves as both kitchen designer and project manager. What this means for you is:
Guaranteed measurements by an experienced pro. Every component of your kitchen fits the way it needs to, for seamless installation and pleasing appearance.
Daily, hands-on management for every kitchen remodeling project, large or small. Troy goes on-site for every job, every single day. He's eye-to-eye with you, with the project, and with the team so he can answer your questions, keep the job on schedule, and address any issues on the spot.
Strong relationships with proven subcontractors. Troy works exclusively with reputable electricians, plumbers, countertop installers, tile and flooring installers, painters, and finish carpenters – skilled craftspeople he knows will show up on time, perform high-quality work, and be accountable for any mistakes. If he wouldn't have them work on a project in his own home, he won't have them work on yours. In turn, these craftsmen are loyal to Troy, so his projects get first priority to meet tight schedules.
One point of contact, a single itemized invoice, and a clear paper trail for work in progress and final billing. Once you've arrived at your final design and quote, Troy's invoice accounts for every item in your project – no confusion and no surprises. Have a question or a concern? One call to Troy is all it takes.
What does a kitchen remodel cost?
The cost of a kitchen remodel is going to be different for every customer and always depends upon the size of your kitchen, how you want to remodel your space, and the types of finishes you want. For example, Formica countertops will be more affordable than tile countertops, which are less expensive than granite and other solid surface choices. Vinyl floors are less expensive than tile or hardwood. GE appliances are less expensive than Viking, and so on.
At Case Cabinets, we perform full kitchen remodels at an affordable price with no hidden surprises. Our kitchen remodels typically include some or all of the following:
New cabinetry
Countertops
Backsplash
Paint
Flooring
Installing new appliances
Installing new lighting
Adding or moving electrical outlets, and gas lines
Making your kitchen larger by knocking out walls or adding an addition.
The projects that we typically work on are medium to large kitchens where the remodel cost comes in at $50,000 or more. Of course, the best way to find out what your kitchen remodel will cost is to fill out the request a quote form on the right or call us.
Kitchen Remodel Amenities to Consider
When remodeling your kitchen everyone knows you can have new cabinets and drawers but here are some of the fun amenities you might want to consider for your new kitchen.
Wine Racks
When it comes to wine racks, there are many options to choose from. You can incorporate them into your cabinets or even a kitchen island. Our wine racks are not only designed for built-in storage but will also make a kitchen appear more upscale.
Cabinet Pull-Outs
We offer a line of cabinet pull-out drawers and shelves. These drawers make it easy to keep your kitchen organized behind the scenes and they allow easier access to things towards the back of the shelves.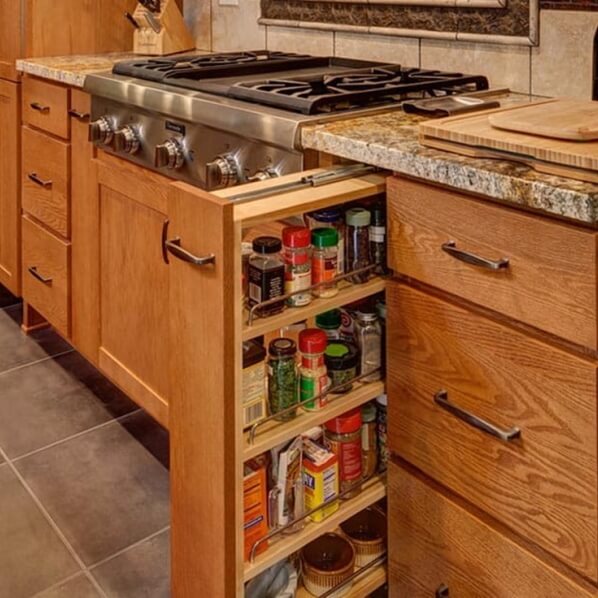 Spice Cabinets or Drawer Inserts
You can choose to add a spice rack into a pull-out cabinet or add spice rack inserts into your drawers. These are clever ways to organize your spices and helps prevent wasting ten minutes searching for some cinnamon.
Sliding Trash Can Insert
One of the best things to consider adding during your remodel is a sliding trash can insert. They clear up the walkways in your kitchen and even mask odors from the trash.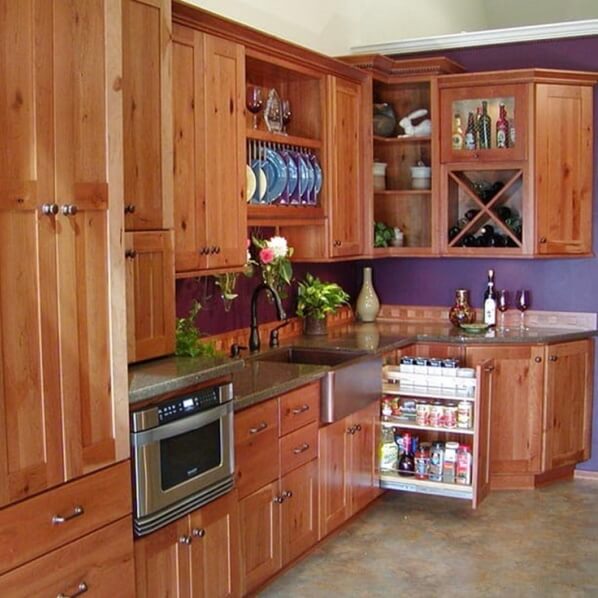 Dish Rack
There's nothing quite so pretty as displaying your favorite china or earthenware in your home. This dish rack is a perfect addition to your kitchen makeover that makes storing your dishes simple.
Appliance Garage
Hate clutter on your counters? Adding an appliance garage to your kitchen is an easy way to clear your counter space. An appliance garage is a great way to keep your kitchen tidy while still allowing you to simply open the doors and use your appliances.
Bookcases
Not only are built-in bookcases an adorable little nook, but they are also a perfect place to put your cookbooks. Having a bookcase in the kitchen keeps your cookbooks organized and close by.
Decorative Vent Hoods
Our decorative custom vent hoods are made to beautify your kitchen. While their function is to remove pollutants in the air from cooking such as grease or smoke, they add an upscale look to your kitchen.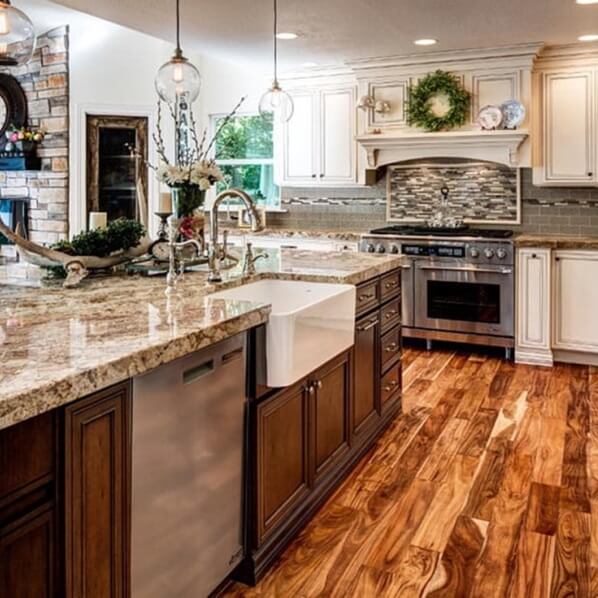 Farmhouse Sink Cabinets
Farmhouse sinks are truly loved due to their depth and length. They offer plenty of room for whatever you need to do in your sink. In addition to that, they add rustic beauty to a kitchen. Our Farmhouse Sink cabinets allow your sink to be at just the right height.
Ready to get started on your kitchen remodel?
If you are ready to start your kitchen remodel, we are ready to serve you. Let's create a beautiful space that you are excited to spend time in. If you're ready to love your kitchen again, schedule your free consultation with Troy Case today. Troy offers flexible appointment times to suit your schedule, including evenings and Saturdays. Call (719) 499-2989 or fill out the Request a Quote form in the right column.